We have had a rare April streak of good weather here in northeast Ohio--four days of sunshine and relative warmth. I spent the weekend working for Mom and cleaning the house, so tonight after work was my first chance to get outside and do a little pre-gardening. I got about ten wheelbarrows' worth of old leaves out of my front flowerbeds and onto the compost heap, then had a quick shower to rinse off the sweat and treated myself to opening the box from my friend Kogi. I finally got around to ordering the mugs I wanted with pictures of the 'Foots on them, and they are gorgeous.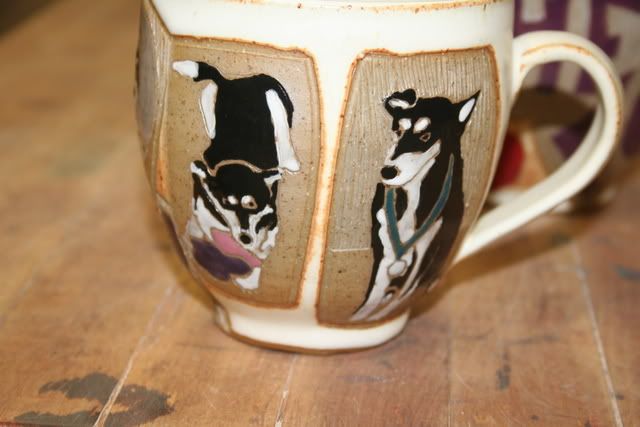 This summer, I am planning to make concrete stepping stones with the dogs' footprints on them. Neither of them shows their true age, but I have to remind myself that they are old in dog years, and I want as many tokens of them as possible.
I haven't decided where those stepping stones will go, but I have decided that this year I will not start any new flowerbeds. I am going to work with what I have until I'm satisfied, and then maybe next year I can add one. I do need to get some planting or something done along the back of the house, because right now it is just one GIANT BORING WHITE WALL and I hate looking at it when I'm out back. I'm taking my garden porn into the tub with me every night and plotting and planning and arranging and re-arranging in my head. That's really pretty much my idea of the perfect evening.