Monday, May 11, 2009.
I stayed home from work today to be with Bigfoot and so he didn't have to spend his last day in a cold concrete basement. I let him sleep in, offered him a breakfast he didn't want, and made sure to massage behind his ears every time I passed him. The morning was quiet, and I did laundry and archived books, and Bigfoot mostly slept.
Around 10:30, I decided to make the concrete stepping stone with his pawprints, so I got out my bucket, the concrete mix, my letters for imprinting and started. I think I got the concrete mixed correctly, so hopefully it will come out of the mold tomorrow. I let the poured concrete sit for 30 minutes, then put it on a flat pan and carried it into the bedroom, where Bigfoot was sleeping. I picked up one of his paws and placed it in the center of the stepping stone, and Bigfoot woke up and was not at all happy. He pulled his paw out and glared at me. I tried again and this time he got up and left the room, leaving little concrete footprints on the floor.
I picked up the pan, followed him into the kitchen, smoothed out the marks and put the pan in the middle of the floor. I got the pig ears out, and bribed Bigfoot while I tried to make him stand on the concrete. What I have are two blurry impressions that won't look very much like pawprints to anyone else, but will always remind me of how stubborn and self-willed my darling dog was. Plus, there's some dog hair embedded in it, so if cloning ever become inexpensive…
After he'd finished his pig ear, I cleaned off his paws and let him go outside to sulk in the sunshine for a while. When he came back in, we both took a nap. I laid down on the floor beside him and rubbed his belly and his ears and told him how much I loved him.
At 4:30, I took a quick shower and put Bigfoot outside. When I was clean and dressed and made up, I let him in and put Littlefoot out, then I put Bigfoot in the car. I let Littlefoot back in and gave him a treat to distract him, then headed out with Bigfoot.
About halfway to the vet's office, Bigfoot got himself wedged between the back seat and the back of the driver's seat and couldn't turn around. I stopped at a gas station and freed him, then went on to the vet hospital.
I took the urn Megan made in with me, intending to leave it and ask the staff to give it to the crematorium guys.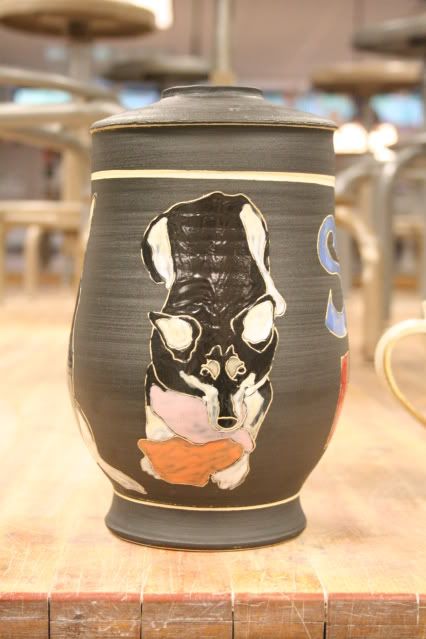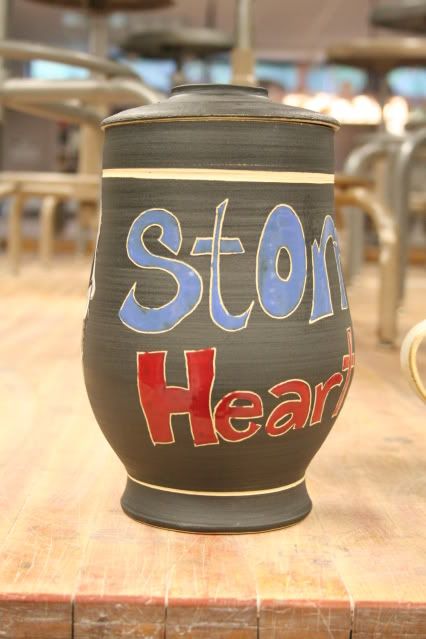 I let Stormdog have a nice long sniff around the yard of the hospital and then took him inside. The two receptionists working tonight were the two I had always gotten along best with, and I got hugs from both of them. Stormdog got Bil-Jac treats, and Missy offered to send the rest of the box home for Littlefoot, but I declined because he's always on a diet.
Dr. Bob wasn't in, as he'd had a 103 degree fever since Thursday, but Dr. Mark was there, and I trust him. He and the techs were pumping the stomach of a dog who'd eaten most of a chocolate cake, so Bigfoot had time to sniff around the lobby and I had time to show Ellen and Missy the urn. They recommended I not leave it, but they offered to transfer Bigfoot's ashes for me if I can't cope with doing it when they come back from the crematorium. I put Bigfoot on the scale, and his weight was 62.3 pounds. That sounds big, but at his healthiest, he was 80 pounds, so it's a big weight loss.
Dr. Mark came upstairs and said hello to Bigfoot, then led us into the smaller exam room. He asked if I was okay with doing the shot upstairs rather than down in the surgery, and I was very pleased to avoid the surgery. I described Bigfoot's recent symptoms, including the lethargy and what seemed to me to be partial paralysis. Dr. Mark said he was pretty sure Bigfoot had canine degenerative myelopathy, which is progressive and incurable. He also said the only good thing about it was that it's not painful.
I sat on the floor next to my Stormdog and held him across my lap and in my arms. Missy came in and stayed with us as the tech swabbed Bigfoot's leg with alcohol. I told him over and over how much I loved him as Dr. Mark slid the needle in and depressed the plunger. I laid my cheek on the top of his head and my right hand over his chest and just told him what an amazing, wonderful dog he was until I felt his heart stop. Dr. Mark warned me that there would be a final gasp, and there was. Everyone left the room, and I sat there with Bigfoot in my arms, petting the velvet fur and breathing in his scent. One of the many things I loved about him was that he never smelled bad unless he was soaking wet, and the smell of his fur was always warm and clean. Eventually, Ellen and Missy came in and put him on the stretcher to take him downstairs. I kissed him goodbye for the last time, and came home.
After hugging Littlefoot and letting him know how much I loved him, I got online and looked up CDM. I found one website stating unequivocally that CDM is the canine version of MS, and although
Wikipedia
was more restrained, it sure looks like it to me. Right to the end, Bigfoot was with me in everything.
Goodbye, darling dog. I will always love you.